What's for dinner for the 4th?
Apparently our geographic heritage influences our 4th of July food choices. I grew up in New England where kids were offered hamburgs or hotdogs with choices of ketchup, relish, mustard and/or sauerkraut, corn on the cob and potato salad. If we were at the beach in Maine, the adults dug a deep hole in the sand, built a fire, layered clams, muscles and lobster with seaweed in between and slow cooked the feast. What's your favorite?

Recently one mom asked her mom friends in a FB group "How much do you spend monthly for groceries?" The answers were from $375 to $1200 per month. Yesterday I came across an article from my favorite radio financial talk show host, Dave Ramsey. He references a study on the spending habits of millionaires, in particular what they spend on groceries and eating out. Compare for yourself!

Please share our newsletter with new friends so they won't miss a few tidbits of wisdom from our author contributors, and as always our many fun events!
Have a wonderful weekend with family and friends! Parmalee
Local moms comment on monthly food spending
"Just trying to settle a debate. About how much would you say you spend on groceries a month for a family of four?"
about $1000
Yep, at least $1200 for family of 6. I'd say close to half our spending is on fresh organic fruits & veggies.
About $400-$500
$375 a month I only shop at grocery outlet
$500-600 - unfortunately it's gone up with our waste elimination and plastic free, mostly organic shopping efforts. I'm learning which stores to shop and I'm buying a lot in bulk. We also don't eat a lot of meat which helps with the budget
A month for 3 of us is about $500-700 depending on if it's time for a Costco run or not
$1,000 a month
$800-900/month. Family of 4 with baby needing formula.

Trying to find good food/healthy food and a cohesive meal plan is hard! We are a family of four and spend around $350/$400 a month on groceries. We get our meat and bulk items from Costco and then get the rest from grocery outlet.
Family of 2, groceries are about $600
Family of 5 almost 6, about $1,200. Not including any eating out or activities.
Between sunbasket meal delivery kits and bi monthly (grocery outlet) trips between $400 and $500 for me and my son. So double that for a family of 4.
Are you Spending Like a Millionaire? Yes? Good!
Millionaire Spending Habits That Will Surprise You
Most American families are spending more than the average millionaire on groceries . . . every single month. Get this: The average monthly grocery expense for millionaires is $412,1 while a comparable non-millionaire American family spends $582.2 That means non-millionaires spend about 30% more on groceries than millionaires. Let that sink in for a minute.
When it comes to common beliefs about the millionaire lifestyle, pinching pennies on something as normal and everyday as groceries never comes to mind. Most of us probably imagine a designer-clad person shopping for organic everything at the highest-end grocery store in town. You know, the one that costs your whole paycheck? You might even be surprised that millionaires shop for their own groceries at all.
But here's the truth: Millionaires are just like us-normal people. They go to work, they grocery shop (with coupons), and they even live on a budget . . . and we've got the research to prove it.
Spending: Let's Talk Groceries
Let's Talk Groceries
Look, we all need to eat to survive. And if we don't want to blow the budget every month by eating out, we've got to shop for our groceries and make our meals at home. Your average millionaire does not have their own live-in chef. This can only mean that they, too, go to the grocery store, meal plan, and even save money with . . . coupons. Yup, millionaires clip coupons too.
In The National Study of Millionaires, we found that more than one-third (36%) of millionaires surveyed spend less than $300 each month on groceries, almost two-thirds (64%) spend less than $450, and less than one in five millionaires (19%) spend more than $600 on groceries. The study even breaks down grocery expenses by region, area, household size, net worth, employment status and age.

You would think that your carefree attitude would increase along with your net worth. But that's not reality.
Millionaires in the $1-1.99 million range spend $417 per month on groceries.
Millionaires in the $2-2.99 range spend $27 less, or $390 per month.
Millionaires in the $3-3.99 range spend $361 per month.
Millionaires in the $4-4.99 range spend $388 per month.
And millionaires whose net worth is over $5 million spend the most: $505 per month.
Check out those numbers! Those with a net worth of over $5 million spend only $88 more than those worth $1 million. Even the millionaires with the highest net worth are still spending less than the average American family. Millionaires are onto something with this spending less and saving more business.
Let's Talk Restaurants
Let's Talk Restaurants
To the average person, a millionaire could just walk into a restaurant and pay for everyone's meals without blinking an eye, right? Come to think of it, they could probably find the owner and make an offer on the restaurant itself-in straight cash! But instead of making these extravagant purchases, the average millionaire is actually going out to eat and spending way less than we would ever think.
If you haven't caught on yet, these millionaires are frugal with their money. They worked hard for their money, and they're not going to spend all their hard-earned dollars in one place.
On average, Americans spend $3,365 per year on eating out.3 That's more than $280 per month! The average millionaire spends $267 monthly on eating out.4 And if they use coupons, it goes down to $222.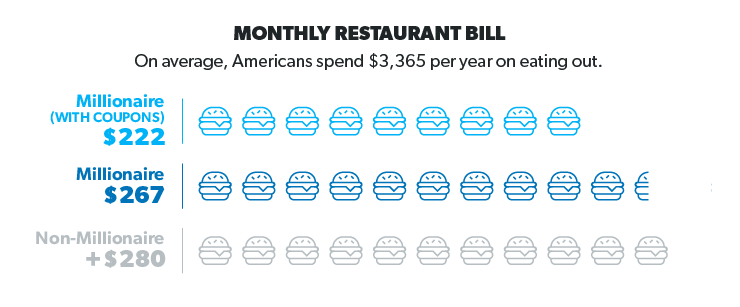 We'll give you a second to digest that. Yup-millionaires do actually use coupons when they go out to eat too! Who said the love for bargains has to end when you're rich?
A Mom Speaks Out About Needles on the Beach
Every summer this happens. Discarded needles on Cowell Beach during Junior Lifeguard sessions. We received this report from a concerned mother:
"Very upsetting! I am a mother of 5 with two children in Jr. Guards on Main Beach and one daughter training in beach volleyball every day on Main Beach too. Also, our family surfs at Cowells almost daily.
This past Saturday we were at Cowells at the bottom of the stairs off West Cliff with out of town guest. Everyone was surfing and all the kids were playing on the little beach that was left as the tide came in.

My daughter all of sudden looked down and said to my sister, "is that a needle?" Literally next to my sister's bare foot in the middle of all the kids was a drug needle in the sand. She quickly covered it and found something to put it in because she did not want to upset anyone, especially our guest and the children.
Two days later(yesterday), my daughter was walking from volleyball to meet us at Cowells and as she walked the waterline there was another needle in the sand.

Very concerned about my children that are down there every day running on the beach without shoes and drug needles are all over and probably under the sand.
This is not mentioning all the other problems I am seeing as I am down there each day by the wharf/ Boardwalk area. I regularly try to decide if I should call 911 to report situations witnessing especially unstable individuals that are screaming or acting in a way that seems to be threatening to others.

I am so busy it is hard to find the time and energy to fight against all the dangerous things that are happening here in OUR town.
But what happened in the past few I know needed to be shared and God willing somehow we can all come together and stop the scary direction Santa Cruz is going before another person is hurt or does from the negligence.

Hope this is helpful to others. Also, I would appreciate advice on how to report these type of things to the right people in a way that will be helpful. Thank you"
Fun Events!
| | | |
| --- | --- | --- |
| | | |


click to view website
Beehive, The 60's Musical
Cabrillo Stage Summer Musical Festival
Date: Every day (Jun 27-Jul 14)
Details: A Cherry Coke With Plenty Of Fizz! "My Boyfriend's Back", "Be My Baby", "Son of a Preacher Man", and "Me and Bobby McGee"
City: Aptos view all details >>

click to view website
Friday Night Bands at the Beach
Beach Boardwalk
Date: Every Fri (Jun 14-Aug 30)
Details: Bring the family and your blanket or low back chair and join us for these classic bands!
Special Instructions:
City: Santa Cruz view all details >>

click to view website
PopUp Picnics in the Park
Friends of Santa Cruz State Parks
Date: Every Th (Jun 13-Aug 16) from 11:30am to 1:30pm
Ages: All
Details: Enjoy tacos on the terrazza!
City: Santa Cruz Phone: (831) 429-1840 view all details >>

click to view website
Art & Music at the Beach
Capitola Art & Cultural Commission
Date: Every Su (Jun 23-Aug 18) from 11:00am to 5:00pm
Ages: All
Details: Music, Art, the Beach... come visit
City: Capitola Village view all details >>

click to view website
Movies at the Beach
Beach Boardwalk
Date: Every Wed and Th (Jun 19-Aug 14) at 5:00pm
Details: Bring the family and your blanket or low back chair and join us!
City: Santa Cruz view all details >>

click to view website
Food Truck Party
City of SC Parks & Rec
Date: 06/27/2019 from 5:00pm to 8:00pm
Details: Bring your lawn chairs and blankets and spread out on the green grass. Plus play corn hole, giant Jenga and other games!
City: Santa Cruz view all details >>

click to view website
Spend Like a Millionnaire
Date:
view all details >>

click to view website
Spend Like a Millionnaire
Date:
view all details >>

click to view website
Spend Like a Millionnaire
Date:
view all details >>

click to view website
Plant Exchange
Live Oak Grange
Date: 06/29/2019 from 8:00am to 9:00am
Details: Gardeners are encouraged to bring volunteers, seeds, cuttings, specimen plants, and any other garden related item to give away.
City: Santa Cruz view all details >>

click to view website
Skill and Luck: Games of the Mission
State Park Mission
Date: 08/17/2019 at 1:00pm
Details: Gather round the table and play a board game set in the 18th century
Special Instructions: at the end of School Street off the Santa Cruz Mission Plaza
City: Santa Cruz Phone: (831) 425-5849 view all details >>

click to view website
Triple P Workshop: Helping Teens Cope With Depression
Triple P
Date: 06/27/2019 from 6:00pm to 7:30pm
Details: Attend this FREE parenting workshop to learn: What to do if you think your teen is depressed...
Special Instructions: Phone number: (831) 335-6600, ext 6605
City: Felton Phone: (831) 335-6600 view all details >>

click to view website
Spend Like a Millionnaire
Date:
view all details >>

click to view website
Positive Discipline for Children of All Ages
Positive Discipline Community Resources
Date: Every Wed (Jun 19-Jul 3) from 6:30pm to 8:30pm
Ages: Adults
Details: Intensive 3-week Positive Discipline Parenting Class Series for Children of All Ages
Special Instructions: No Childcare Available
City: Santa Cruz Phone: (831) 476-7284 view all details >>
business directory | blogs | classifieds | contests | editor updates | families giving back
newsletter archives | parent chat | parent planner | parent perks | contact us
Stay Connected:
Blogs |
RSS